Membership Roster
---
Board of Directors
Barbara Hébert Hébert, President (Abbeville)
Joseph G. Vallee, Vice-President (Abbeville)
Gary E. Theall, Secretary-Treasurer (Abbeville)
—————
Dana Beatty Bourque (Abbeville)
Sue Butaud (Erath)
Jennifer Campisi (Abbeville)
Lloyd F. Doré III (Abbeville)
Charles Dill, Jr. (Abbeville)
Patricia Heard (Gueydan)
Gale Luquette (Abbeville)
Kathleen S. Miller (Abbeville)
Jude Pere (Abbeville)
Sylvia Brown Putnam (Abbeville)
Dick and Mary Watkins (Abbeville)
Alberta Villien Winch (Maurice)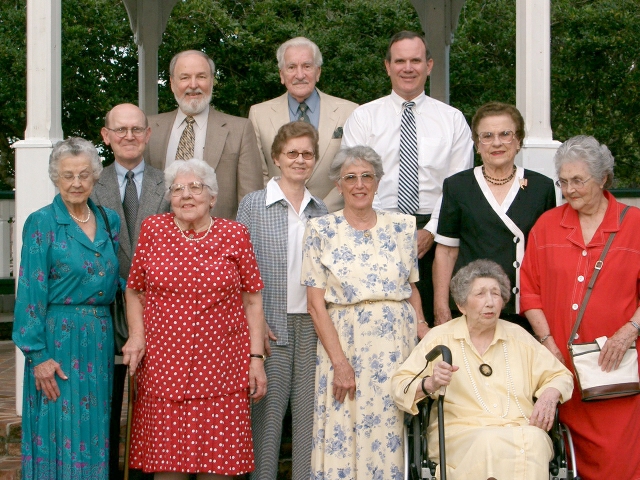 (2003) Left to right: Cecile B. Broussard, Kenneth A. Dupuy, Heloise Broussard, Gary E. Theall, Alberta Villien Winch, René Breaux, Barbara H. Hébert, Lloyd Doré III, Una B. Evans, Margaret Steen Villemez, Velta Bourgeois. Not shown: Sue Butaud, Patricia S. Heard, Meceal H. Smith.
---
Lifetime Members
Atakapas-Ishak Nation
Donnelle Brasseaux Alsandor
Whitney Atchetee
Catherine Bonin Barbara
Meredith May Blackwell
John S. Bonin
Joseph M. Bonin
Mark Boyance
R. Brady Broussard, Jr.
Eaton Chauvin Brown
Carl J. Cabrol
Theresa Bonin Campos
Donald P. Chauvin
Barbara Dartez
Natial D'Augereau
Rita C. Bonin Deas
Stacy P. Dempsey
Susan Desormeaux
Charles Dill, Jr.
Elaine Dill
Lloyd F. Doré III
Anna E. Edwards
Elizabeth Edwards
Wm. P. "Judge" Edwards III

Anthony J. Fontana, Jr.
Sarah Fox
Douglas Garling
Betty D. Girouard
Agnes Godchaux
Frank A. Godchaux III
H. L. "Sonny" Harkins
Patricia Saltzmen Heard
Barbara H. Hébert
Mona Hemphill Hollier
John Howard
Susan Bonin Johnson
LAPCRL LLC
Anne Leonard
Beth Bonin Looney
Suzanne Vallee Meaux
Kathleen Sellers Miller
Otha Morgan
Patricia d'A. Motter
Judith Bonin Navarre
Carol Noack
Emma G. Norris
John W. O'Bryan III
Robert E. O'Bryan

Jude Pere
David Pierce
Lawrence Primeaux
Emmet P. Putnam, III
Marilyn F. Putnam
Sylvia Putnam
Jim Russo
Mary Sagrera
Maxine Schexnayder
Eugene Sellers
Phallie Sellers
Charles R. Sonnier
Mary Ellen Sonnier
Debbie Spinks
Jim Spinks
Pastor, St. Mary Magdalen
Virginia B. Stokes
Frank L. Theall
Gary E. Theall
John W. Theall
Joseph G. Vallee
Suzanne Vallee Meaux
Paul O. Villien, Jr., M.D.

---
Past Lifetime Members
Carmen Boulet
Dan Bouligny
Velta Bourgeois
Heloise Broussard
Daina Lutgring Bradley
Cecile Broussard
Una B. Evans
Belva Fisher
James E. Fontenot
Amanda Sagrera Hanks
Margaret Hunter
George Argue Putnam
Jeanne Reese
Marilyn Lutgring Sermon
Helen Mouton Thompson
Emery Toups
Sawyer White
---
To join or to renew your membership, print out the and send it in with your dues.
---