[Photo courtesy Sheila and Wakeman Edwards Linscomb]
Dr. Clarence J. Edwards
by Kenneth A. Dupuy
In the past we have taken a pleasure excursion aboard a steamboat from Abbeville to the seashore. Now, before we learn about Dr. Edwards' life, we will be taking journeys with him by steamboats and trains from Abbeville to Morgan City, from New Orleans to New Iberia, and on horseback from New Iberia to Avery Island. The accounts of these trips were taken from Dr. Clarence Edwards' diary. He was only 15 years old when he recorded two of these trips. We'll learn more about his personal life as we continue this visit. For now, let's just say that C. J. Edwards came to Abbeville when his family moved here in 1876 and remained here until his death in 1920.
His daughter, the late Mathilde Edwards, loaned me her father's dairy in 1975, and I hand-copied it almost verbatim. I'm presenting these journeys for many reasons not the least of which is my being impressed by this man's intellect and general fund of information, and by his ability to express himself so well, even at the age of 15.

C. J. Edwards Diary, entry for January 1, 1877
[Diary courtesy Sheila and Wakeman Edwards Linscomb]
Two of these trips took place before he moved to Abbeville. The third trip occurred in 1878, after he had been living in Abbeville for two years. That particular trip was from Abbeville to Morgan City by steamboat and from Morgan City to New Orleans by train. On his return trip to Abbeville, Dr. Edwards went up the Mississippi River past Baton Rouge, and ended up in New Iberia—all on one steamboat ride.
From his account of his trip to what would one day be called Avery Island, we learn how salt was mined, processed, packaged and shipped during the Civil War.
There are other interesting things to learn from his journeys, including how Edwards relieved a toothache, at least temporarily, and what it was like trying to sleep aboard a steamboat. We'll get an idea of which were the major plantations south of Abbeville, and an indication of their relative locations. LSU fans will learn that there was once a Tigerville, although it wasn't near Abbeville.
Now let's travel with C. J. Edwards, and discover some delightful insights into life in Southwest Louisiana in the 1870s.
---
Journeys of Dr. C. J. Edwards
Thursday 1-10-1878 - [In Abbeville] I got up early this a.m. and went to the warehouse to see if the boat had passed down. ... About 10 o'clock the clear whistle of the Mattie heralded the event of my departure. After bidding friends & folks a hurried good-bye I got aboard the Mattie at King's Warehouse [middle of the block, between Port and Lafayette Streets, or lot 3 of Megret's portion of Abbeville] & we steamed down the bayou, until we reached [A. G.] Maxwell's Warehouse [located about midway between Lafayette Street and the future site of the railroad depot] where it stopped to take on freight and my trunk. Jeff Lyons & Davis Rawlins got aboard here. ... Boat continued down the bayou until Mr. Area's place was reached where another landing was made to take on some sugar. ... After a few minutes run, we reached Perry's Bridge passing the old home [the former home of Robert Perry and family, across from the town of Perry], the scene of O! so many things that are enshrined, as it were, in my heart [C. J. had lived there briefly with his parents and siblings]. ... Took on some freight and passed the bend, O'Bryan's sugar house &c until Bagley's [was] reached. Here we took on a lot of sugar. ... F[rank] Winston's place was the next stopping place where we laid some two hours and wooded up [loaded a supply of wood for steamboat's fuel]. After the wood was all aboard, the boat put out from shore, swiftly passing Winston's Woods the scene of our July picnic. ... We stopped at Putnam's to take on Mr. [J. Henry] Putnam, his two little boys & mother-in-law (Mrs. Johnson). The passengers then on board were quite a crowd, Judge Kibbe, Putnam, Jeff (Lyons), 3 chaps from Pin Hook, a nice young fellow named Haven, a printer by trade, Davis & myself. We passed Winston's, [Solomon] Wise and [H. H.] Bartels, the Bank place, & others reaching Adrien's [probably Nunez] after dark where we put into shore to take him and his lady aboard. We passed over the bar without any difficulty and kept on our course until we reached Cote Blanche at about 10 o'clock where we took on a lot of freight and put of[f] some. ...
Jan 11-78 - Reaching Bayou Salé about 2 o'clock took on a lot of sugar here. A railroad runs out about 150 yards from shore on trestle work forming a safe though slow mode of conveying freight to and from the warehouse and boat. ... After supper I was taken with a severe toothache & at a late hour went to bed but to no purpose. I could not sleep & after a good deal of suffering I hunted up some creosote & put in my tooth which gave a little relief, but it soon returned with renewed vigor.
Morgan City was reached about half past 4 on the morning of Saturday Jan. 12th.
Saturday Jan. 12th - Jeff and I knocked around town some. Called on Jim Brookshier and saw all that was to be seen. ... We breakfasted on the boat. At about 12:30 noon the train arrived & then we left. ... At Tigerville a young lady got off.
[Stayed in New Orleans until Jan. 22nd.]
Tues. 22nd. - [Got on board the Str. Fachon.]
Wed. 23rd Jan. '78 - A while after daybreak I crawled out of my nest & changed again. We were then a piece above Plaquemine, having made in the neighborhood of 110 m's since leaving N.O. I set my plan to see Baton Rouge which we were nearing. ... Only got a passing view of the city with its grand and stately old State House which rears its white towers up in sublime and striking grandeur, reminding one of an ancient castle of Europe. ... Was soon plowing up the Mississippi. We passed Waterloo and old Port Hudson, not much could be seen from the river at Port Hudson to indicate that it was once the scene of so much bloodshed and carnage. Bayou Sara was passed shortly after dinner. The boat stopped on the opposite side of the river & Steve got off. He will take the ferry across the river & take the stage for Jackson where he goes to attend Centenary College. ...
Thurs. 1-24-78 - When I awoke this morning it was to find myself in the Atchafalaya. After running a piece we took on 2 barges and passing along through this wild wooded country one found but little to see. ... We stopped about dinner time at a landing & took on a passenger - he was a swamper or lumberman. After passing through Chicot Pass & Cypress Pass we reached Grand Lake & soon were out upon it. I became quite familiar with the pilots Jim and Charlie Meyñun both of whom are nice chaps. ... During the afternoon we passed the wreck of the old "Queen of the West," a Confederate gunboat which was hard pressed by 5 or 6 Yankee gunboats and run aground. A shell entered her magazine and blew her & a couple of hundred men into eternity. Her shaft sticks up out of the water & seems to tell the sad tale that clings to the wreck. We come out of the Atchafalaya into the Teche above Pattersonville. Tied up the two barges here and went on down to Pattersonville where we arrived about 2:30 P. M. I mailed my letter & looked around town a little. ... We then went up the Teche passing many places of interest. Stopped at Marsh's "Riccohoc" plantation. ... We reached Franklin about 8 o'clock. I got off and looked about a bit. Saw the courthouse which seems to be a fine building. After discharging considerable freight we put out and continued on our course. [Arrived in New Iberia Friday morning 1-25th.]
1-25-78 - Got off .... met my old friend Embry Tolson at Blanchet's where he is warehouse clerk. Had my trunk put off at old Swaim's warehouse. ... Took a little ramble thro' town meeting Troy Ervin who is learning blacksmithing with old Bill Caldwell. About 9 o'clock I left for grandpa's where I arrived pretty safe & tired. ...
Sat. 1-26-78 - Tom [a cousin] and I went into town today [New Iberia]. I looked around town in search of employment. I called at the Courier [C. J. had worked on the Vermilion Banner in Abbeville for a year] and Sugar Bowl offices. ... My friend Arthur Escudier (formerly of the Sugar Bowl) is now on the Courier. ... A young chap named Lea from New Orleans is in charge of the Sugar Bowl just now but it won't last long.
Tues. Feb. 5, 1878 - Grandpa started for Abbeville after dinner. ...
Fri. Feb. 8, 1878 - I went to New Iberia & brought home a pair of saddle bags full of clothes. Intend to start home tomorrow.
Sat. Feb. 9 - ... I reached home at 4 o'clock and found all well. [On Sunday, February 10th he took part in a baseball game in Abbeville.]
---
The next of C. J. Edwards' trips that I will discuss took place in 1874, four years before the one we just took. Again, what amazes me is that C. J. was so perceptive and articulate when not quite 16 years old, when he made the following comments. He was still living in New Orleans at this time.
---
Saturday August 1st, 1874 - This was the day on which I was to leave for New Iberia. I arose at 4 o'clock, had breakfast at 5 and took the horse cars and went to Cor. Canal & Baronne St. Went up Dauphine until I came to Orleans street. From there to the Morgan's Ferry & got to the depot in Algiers all safe & sound. Leaving the depot at eight o'clock, went along very slowly until we reached McDonoughville, when we went at a good speed.
GRETNA was the next place we stopped at. From here we went on a 'tear' until we reached JEFFERSON STATION which consists of a few shanties, a Catholic church & graveyard. Col. Waggaman's plantation is here. From this station we leave the river [Mississippi River]. Strike out a little westerly until we reach ST. CHARLES STATION where all to be seen is two little houses. From here to Butte I saw a good many rice fields. The rice was about two feet high & some of it was ripe & had fine heads. The next place - BUTTE STATION is a small place also half a dozen shanties, about. Next DES ALLEMANDS came in sight where about half of our passengers got off and took the steamer "Bossier" for Grand Isle. Bayou Des Allemands is about 100 yards wide and is crossed by a stile bridge which has a draw from here to a side track midway. This place & Raceland is one vast prairie, as far as the eye can reach ... it is grass - grass. At this side track the train stopped and took on 10 passengers, who got off a small horse-car with the name of 'Sabatier' which came up a small track from the direction of a plantation to our left.
RACELAND STATION is a little place like the others. At this point we went very slow, no faster that the 'dummies' on the Carrollton road, passing large gangs of laborers who were repairing the track & roadbed. Between here & Lafourche I saw my first alligator. His Excellency was about 7 feet long.
LAFOURCHE consists of a large station house & telegraph office. The bayou is about 125 feet wide & is crossed by a draw bridge, & as soon as I crossed the bayou I saw the effects of the crevasse [referring to a break in the levee and flooding by the Mississippi River, I believe]. The water had been about 3 feet high & covered the floors of most all the houses. I saw no crops growing except 2 patches of sweet potatoes. ... We went at the rate of about 7 miles an hour all the way to Bayou Boef.
TERREBONNE STATION is where the road's branch from Houma comes in and is a small place. A train from Houma was on the Houma Track.
CHACAHOULA STATION is a small station of no importance that I know of. At TIGERVILLE we stopped 10 minutes, took a flat train with laborers to Bayou Boef. A train passed us here. And from BAYOU BOEF STATION we made good time to Brashear [Morgan City] where we arrived at half past 12.
BRASHEAR is a little place about the size of "Lincoln town" & about as beautiful (?), consisting of grog-shops and shanties. There were 2 steamers: The Iberia and Flora [The Flora sailed the Vermilion River at this time, while the Iberia traveled the Teche Bayou] and one steamship: The Josephine at the wharf. I got my valise and went aboard the "Iberia," registered, and got Room 6. Had dinner about 1 o'clock. The fare was very good, & the table crowded. When I went out on deck I saw that we had made great headway while I was at the table. We are now passing large plantations & sugar houses, some of the latter in ruins. The cane is fine and 5 feet high in some places. The water has been very high here. I saw houses on the East side of the Teche where the water had been between four and five feet high. The Teche is 200 yards wide at Brashear, but it gets narrow as we go up the bayou.
The Iberia
[Photo courtesy Ken Dupuy.]
At FRANKLIN the Teche is 150 feet wide & has a couple of saw mills. I saw a steamboat called the "Rebecca" laying at one of the mills. We arrived at the wharf at 5 o'clock. We were detained about 15 minutes by a raft which lay across the bayou about 200 yards from the wharf. Franklin is a small place & is situated on a bluff. From here the bayou grows narrower & more tortuous as we ascend. Passed the "Orphans Home," at 8 o'clock. A little before dark I made the acquaintance of a boy from Vermilionville named Samuel Locke Breaux who is a pleasant companion & is returning home from a Catholic college at Ocean Springs [Mississippi]. I & Sam set up until half past 10 talking when we "turned in" & went to sleep. I found my room to be very warm & the noise of the wheel, the escaping steam, and the ringing of the bell made me pass a very unpleasant night. At 1 o'clock we were all woke up and told that it was NEW IBERIA and we were glad of it, for from Franklin we had progressed very slowly & the boat would stop every 5 minutes & back & go ahead. We stopped at Serrett's House, when Mr. Serrett came aboard and asked for me saying that the old gentleman [grandfather Hollingsworth?] wanted me to stop at his house. I & Samuel got a room together & slept very well. At 5 o'clock I got up & took a walk to the steamboat landing & then down Main Street. At the market I saw a dilapidated old mud box of an engine, which was called the "Rip Van Winkle," a name which it deserved. At 7 Sam left for Vermilionville in a buggy. I wrote a postal card to Pa informing him that all was well & at 8 grandpa and Tom came for me. I paid my bill which was 50 cents & left for "Toledo Farme" where I arrived at half past 10. Took lunch and after dinner Tom and I went to the Petit Anse which is a muddy stream & I thought it was a pond but Tom told me that it was the bayou. It is between 2 and 4 feet deep.
---
This next trip that C. J. described is to Petite Anse Island which in time became known as Avery's Island and finally Avery Island.
Saturday August 29, 1874 - Today I left this morning in company with Tommy for Petite Anse Island. I saw the hills on the island before we got there. About 1 mile from the Island a road commences, it once was a plank road built by the Confederate Government—but it is a ruin now, its sleepers being all rotten, the road is covered with old planks & it is a rough road. We crossed the bayou on a bridge.. We saw about a dozen people fishing and crabbing in the bayou. We went right straight up the first hill we come to and got a good many rocks of various sizes and colors. From here we went to the salt mine. It is situated in a valley. The building is 100 feet long & 30 wide. The tower in which the hoisting apparatus is located is 50 feet high. Every part of the building is put up roughly, the building being covered with long planks & the tower ditto. They were at work putting up a new boiler & consequently are not at work mining. I had a pleasant conversation with Mr. John Avery, [and] Mr. Kearney, both of whom were introduced to me at Mr. Dave Hayes. From Mr. Kearney I learned that during the war the way salt was got out was to clear off a place about 20 feet square, dig the earth out a couple of feet & then blast the earth, & finally the salt. I got a piece of salt and looked around at the affairs. The salt after it comes out of the mine, goes to the top of the tower & is run out on a platform, put in a mill ground up coarsely and 3d quality; some of it is passed lower down into another mill & ground into 2d quality salt. Some of this is passed into the next mill and ground into 1st quality and runs from the spout of the mill into sacks put on a platform scale, weighed & sewed up and is ready for market. A little railroad runs from the mine to the Petite Anse, & loads the salt onto a steamboat, schooner or any other craft. We left, and went to "Prospect Hill." We crossed a ravine which lies about 200 yards from the mine. It is 12 feet deep & five wide & has a small rill running in it. A little while before we reached Prospect Hill I took a headache and when we reached its summit I felt badly, but could not help admiring the gorgeous beauty, and sublime magni[fi]cence & grandeur of my birds eye view. The Israelites from Pisgah's summit could not have beheld a more enrapturing & soul stirring view. I thought of "Him who holds the earth & seas in the hollow of his hand." We stood on the highest part of the hill—a little knoll that only three horses could stand on—and viewed the land. To the Northeast lay the town of New Iberia and Petite Anse prairie. To the east it was smoky and raining. To the South was the Gulf, & we saw what I supposed to be the smoke of some steamship. To the Southwest lay the placid, blue waters of Vermilion Bay where it was raining also. To the West lay Prairie Gregg [Grieg?]. In the North it was raining. The Hill is 500 feet high I guess, and is of a gradual ascent, & is formed of red clay. The Island is a beautiful spot & although the hills are poor the valleys are fertile. When I reached home I had a fever took Quinine & pills, that day & next & got well shortly.
[I found that trip to have been a great peek at Avery Island over a century ago. Now, let's visit with C. J. Edwards and get to know him better]
---
When 17-year-old Clarence Jeptha Edwards arrived in Abbeville in 1876, he was underwhelmed. He was not happy with our town, but then why should he have been? He had lived in the Carrollton area of New Orleans, an area which had been a town that had been annexed by New Orleans in the 1850s. It was difficult for him to leave his friends, relatives, and many fond experiences in Carrollton proper, and in New Orleans in general. He had to "bid farewell to the dearest spot of earth to me..."
C. J. left New Orleans to come to a relatively isolated town, to a town so small that if someone were hammering, he could be heard throughout the corporate limits. C. J. gave up a city with scores of stores with vast selections of everything from groceries and clothing to patent medicines and hardware. There were doctors and dentists throughout the city, while in Abbeville one had to depend on traveling dentists who came to town infrequently for only a few days at a time. Our doctors were more numerous than our dentists, and they lived in Abbeville. Edwards left New Orleans with its unending flow of people coming from and going to other parts of the world. New Orleans was a trading center for everything from crops to international finances. Abbeville had no banks until the 1890s. Money supplies trickled through the fingers and coffers of the more successful merchants and entrepreneurs in Abbeville.
New Orleans provided public transportation through rail systems and "horse cars." If someone wanted to leave town, there were many modes of travel including trains, steamboats, schooners and other sailing vessels. Abbeville's modes were limited to steamboats that left town once or twice a week; rough-riding stagecoaches, horseback, and other horse-drawn vehicles.
Clarence, who had been and would continue to be associated with journalism most of his life, left a city that published dozens of newspapers in many languages for a one-newspaper town. For a short while, he and his father, Judge W. W. Edwards would attempt to correct this dearth of newspapers and would compete with the Meridional only to be beaten by, and won over by Abbeville's longest existing newspaper. But then, we're getting ahead of ourselves.
My belabored point is that C. J. Edwards had good cause not to be impressed when he arrived in Abbeville on board the Mattie, on May 16, 1876. For fear of violating his descendants' trust, I didn't record his initial impressions about Abbeville. Now, over twenty years later, I'm sorry I didn't copy his exact words from his diary, if only for my own benefit.
From the "foot of St. Ann," he crossed the Mississippi on the steamer "Sarah" to get to the depot. For part of the trip to Morgan City, this adolescent had the privilege of riding "on the locomotive with the engineers." Following a 3-hour layover in Morgan City, C. J. boarded the Mattie, the same steamboat that had transported his parents and younger brother and sister to Abbeville a few months earlier. The Edwards family had been lured here, I believe, by W. F. Area, Gus Godchaux's father-in-law to-be.
Leaving Morgan City around 3 p.m. on Monday May 15, 1876, the Mattie and C. J. arrived "just below" Abbeville a little after 10 p.m. on May 16th. Naturally, there must have been numerous stops along the way up the Vermilion River to drop off supplies and passengers at various plantations below Abbeville.
Clarence had come to join his family. Who were his family members? "Pa" was Wakeman Wakeman Edwards who had moved here to practice law. In 1889, W. W. Edwards was appointed district judge to fill the unexpired term of Judge C. Debaillon. "Ma" was Martha Hollingsworth. We'll visit W. W. Edwards and his wife at a later date.

[Photo from volume 1, History of Vermilion Parish.]
As you may recall from our trips with C. J. on his journeys, he had visited his maternal grandparents near New Iberia at "Toledo Farme." The Hollingsworths had settled there after moving from Mississippi.
Two years after the Edwards family had moved to Abbeville, Jeptha Hollingsworth, the grandfather from whom C. J. got his middle name, died. The following excerpt from C. J.'s diary describes this death from Clarence's own experience and depicts another slice of life about which we know little.
---
"This morning [05-12-1878] Joe Dooley rode up & brought us the mournful news of my grandfather's death. ... I borrowed Frank Lyons' horse & went after the horses & after a long ride succeeded in getting them safely home. Pa borrowed Mr. Area's buggy & after dinner he and mother started for my dear grandfather's late residence." It rained most of the following day. On Tuesday May 14th, "Pa and Ma arrived safely this evening & could only confirm the sad news of Sunday. Grandpa died suddenly of heart disease at about 6 o'clock Sunday morning. He had spent the day before in answering letters & never wrote better in his life. ... The funeral which took place yesterday evening was well attended, but owing to the heavy rain, no ladies could get to the grave."
---
I enjoyed the descriptions of what occurred, but certainly not his grandfather's death. How far did C. J. have to ride and where did he go for the horses? If his parents left after supper and traveled by buggy, it must have been dark before they arrived at Toledo Farme, somewhere to the west of New Iberia. The trip must have been bumpy, as anyone who has ever ridden in a buggy can attest to. And how much light could their lantern have thrown on the dark, rutty road? Did the rain prevent the ladies from going to the grave because of a lack of rain gear? I'm guessing that the floor-length dresses and the delicate footwear prevented them from sloshing through the mud.
Getting back to Clarence's family members, he had one sister and a brother. His sister was Lizzie [Elizabeth?]. Her status, like that of most women until lately, was gauged by the success and status of her husband. Therefore, I must tell you about George B. Petty, her husband, who was about a year younger than Clarence. George had come to Abbeville from Mississippi in time to be included in the 1880 census of Vermilion Parish. By 1887, he had a "photograph gallery" on the second floor of a building on the west side of Main St. across from the Catholic church. It was Mr. Petty who took the photo of our newly constructed courthouse with those daring men perched on the building's tower in January 1891. He did not remain long as a photographer in Abbeville. In fact he had opened a photo gallery above the Moss Pharmacy in Lafayette in 1889, so he had to have made a special trip to Abbeville to photograph the courthouse.
In December 1890, Petty returned to Abbeville to marry Lizzie Edwards. The wedding ceremony took place at Grey Friars, her parents home which still stands on North State Street. Lizzie's rooms had been in the northern portion of this home. Unfortunately, Judge W. W. Edwards didn't indicate in his diary on which floor her rooms were located. W. W. wrote, "Owing to the difficulty of getting servants, no one was invited but a few relatives." Lizzie's leaving home, was seemingly quite depressing to her father, because it "emptied the nest" of all of his children.

W. W. Edwards Home
[Photo from the Wilmer Geoffroy Collection]
Lizzie Edwards' appearance in the local work force was shortly before her marriage. In May 1889 she was hired to teach an all-girls' school for which many parents had petitioned. These concerned parents must not have wanted their daughters attending any school where wild, bare footed, uncouth boys might have a negative influence on the girls. In November 1890, a month before her wedding, Lizzie resigned as the teacher and was replaced by Mary Lou Kibbe.

Sarah Elizabeth "Lizzie" Edwards
[Photo courtesy Martha Edwards Lewis Bush]
It is my good fortune to have been given, by some kind Abbevillians, photographs that bear the names of Petty's studios in Abbeville, Lafayette, and even Natchitoches. I continue to search for a photo with the name of his "Petty's Portrait Studio" in Chicago to complete this collection.
If W. W. and Martha were upset when Lizzie moved to Lafayette, they must have been devastated when she and George moved to the Windy City in 1892! Fortunately for all, Lizzie made frequent visits to Abbeville, even after her two children, Bessie and George, were born.
Geo. Petty was successful in his businesses. I make this statement based on the fact that in June 1913, Mrs. Petty went to Europe with her two children. By January 1914, they were living in an apartment in Paris after having lived for several months in London. Bessie had graduated from Northwestern University shortly before they sailed to Europe. In January 1914, she was attending lectures at the Sorbonne. Her brother George was studying at the Julien Academy in Paris. He went on to become famous for his sketches of what became known as the "Petty Girls"—pinup girls. My recollection of these drawings is that they were quite risqué to a teenage boy like myself in the days of innocence, before the term "X-rated" had been coined, and before TV soaps had begun showing all.
When George B. Petty died in 1916, he was no longer a photographer , but rather an art dealer, still located in Chicago. It may have been in this capacity that his apparent wealth was made.
C. J.'s brother, William Pierrepont Edwards, was born in 1867. He followed in his father's footsteps in more ways than one. W. P. Edwards, as he was referred to in the Meridional, graduated from the Tulane Law Department in 1891, after having attended Tulane High School in 1887 and 1888. W. P. was sworn in as a district judge on December 12, 1904. Unlike his father, however, he served considerably longer as judge. We'll visit more with W. P. Edwards at a later time. I will point out, as many of you know, that some of W. P. Edwards' descendants continue to follow his honored profession.
William Pierrepont Edwards
[Photo from volume 1, History of Vermilion Parish.]
Returning to C. J. Edwards, he was a man who, like many of the other individuals that we have visited, lived through so many events that we've focused on for the past year, and he ate and sweated and lived with most of these Abbevillians. C. J. watched in horror and worked in desperation as so many of our buildings were destroyed by fire, including the courthouse in 1885. He was one of the men on a committee that delicately handled the documents that survived the courthouse fire. These men labeled and separated the documents into various categories in which they are to be found today, even though they are read only on microfilm. Because of their historical significance, I feel lucky to have handled these scorched legal documents themselves, before they were microfilmed. I had the occasion to do so when I began my research in the early 1970s into the history of Abbeville . There is something more satisfying about handling the delicate, crumbling originals that is not equaled by reading them on microfilm.
C. J. Edwards, in 1882, was among the select few who organized our first fire-fighting unit, the Abbeville Fire Co. No. 1, a volunteer group. In 1889, he was among another group of concerned citizens who formed the Protector Fire Co. No. 2 "for the protection of life and property from fire in Abbeville." In June 1890, C. J. Edwards was elected president of that fire company. C. J. brought to Abbeville some fire-fighting training from New Orleans, where, at the age of 15, he had been a member of the Hall Independent Fire Co. No. 2. In fact, the day before he set out on his trip to Abbeville, young C. J. went to the "Engine house" to help wash the fire engine for his last time.

Protector Fire Co. No. 2, Clarence J. Edwards, President, July 4, 1889
[Photo courtesy Sheila and Wakeman Edwards Linscomb]
Dr. Edwards experienced all the fickleness and extremes of Abbeville's weather from floods to droughts, from the stifling heat of summer to the occasional snows of winter. On January 1, 1877, he wrote, "When I arose I found to my surprise the doorway of my bedroom had blown open during the night and filled with snow." What a delightful scene he captured for us! Imagine how cold it must have been inside his room with snow piling up in the doorway. Because the freezing cold did not awaken him, it suggests to me he was accustomed to sleeping in a cold bedroom, probably under several heavy quilts probably stuffed with cotton grown in the area, quilts for which we would pay premium prices today. Recalling my own experiences with such quilts, the total weight of several quilts was similar to those lead aprons used in dentist's offices whenever X-rays are taken. Moving around under those quilts required considerable resolve.
Dr. Edwards, as a coroner, and as acting sheriff, knew first-hand how humanity sometimes turns on itself. After the sudden death of Sheriff J. Oscar Hebert on January 26, 1905, Dr. Edwards, in his capacity as coroner, acted as sheriff until the vacancy was filled. He was sheriff in deed as well as in name, as is illustrated by the following incident. In late February 1905, Dr. Edwards brought two prisoners, who had recently been sentenced to the penitentiary, to Baton Rouge. Imagine, our coroner and local physician transporting these prisoners. Surely, he had a pistol strapped to his leg, or a rifle in his arms. How strange it must have been for a man dedicated to saving lives to be put in such a position wherein he might have had to shoot someone. In March 1912, he signed a Sheriff Sale's notice in the Meridional as "coroner and acting Sheriff."
Dr. Edwards wrote in his diary about a murder that took place only two months after he had moved to Abbeville. Sheriff Granville B. Shaw, Constable Geo. Lyons, N.C. Young and C. J. were standing on the corner in front of J. T. Labit's building across from Magdalen Square on July 26, 1876. Suddenly the stillness of the dusty, hot evening was torn apart by a "double barreled shot gun in the direction of the Brick Hotel" [Veranda Hotel]. A local lawyer had walked up to the victim and shot him. By the time C. J. and the others got to this hotel, the deceased was "laying under the gallery shed [of the hotel] with a hole in the head and dead as a stone." The particulars of this incident will be presented in an upcoming article on crime.
By now, even those who never heard of him know that C. J. became a physician. However, Dr. Edwards had had many jobs before obtaining his M.D. degree. These varied jobs seem to mirror the fact that he would play multiple roles in later years. In 1877, while living in Abbeville, C. J. hired out as a field hand; he planted corn, worked at a sugar mill, and even cut cane.
In 1878, he began a long association with A. D. Martin, who was a merchant, moss collar manufacturer and one of Abbeville's mayors. C. J. worked as a clerk, and according to his own diary seems to have been in charge of Mr. Martin's store whenever Martin had to leave town. It is possible, although C. J. never mentioned it, that he even worked in Martin's moss collar factory. When Clarence left to attend medical lectures in 1881, he was employed by Mr. Martin.
After attending his first series of medical lectures, C. J. returned to Abbeville and worked at other jobs. Briefly, in late 1881, he and his cousin from New Iberia worked at the "Salt Mines." At that time there were only the mines on Avery Island; the salt dome on Jefferson Island wouldn't be discovered until about 1895. Tom, his cousin, worked as a driller; C. J. worked at "switching" in the mines. In October 1881, before resuming clerking at Martin's, C. J. went to New Iberia where he worked briefly at "Levy's" for "$25 a month and board." Martin then offered him a better deal, so C. J. returned to Abbeville. He left New Iberia on the stagecoach at 8:30 a.m.; Abbeville wasn't reached until 3:30 p.m., because the roads were "terrible." Some might think that some of the delay was caused by stops in numerous towns along the way. However, most , if not all of the towns between here and New Iberia, didn't spring up until the railroad came through in 1892. At any rate, thank goodness it doesn't take that long today!
With authority from the school board, C. J. had a school built in the fourth ward, and for a short time he taught at that school. In fact, it closed during his absence a short time later, when he left for additional medical studies.
Perhaps, though, the sphere of employment that addicted him the most, besides his medical profession, was that of journalism. While still living in New Orleans, C. J. had been employed at the State Register. When he died in 1920, Dr. Edwards was editor and manager of our Meridional. During most of his time in Abbeville, Dr. Edwards was associated with newspapers.
The first weekly paper he worked on in Abbeville was the Vermilion Banner. Soon after arriving in Abbeville, his father, W. W. Edwards, purchased the "Terrebonne Banner office of Houma, La, and a lot of paper, etc. in New Orleans." When C. J. unpacked the boxes, he reported that "Judging from the specimens I found in the boxes the Terrebonne rats are whoppers." The Vermilion Banner's office was located, as best as I can determine, on the east side of Main Street, near Sol Wise's store.
According to the diary, C. J. did most, if not all of the printing of the newspaper and other printing jobs, such as the printing of briefs for lawyers, and election tickets [ballots] for the "Presidential, State and Parochial Election" on November 6, 1876. Rutherford B. Hayes was elected president in that election; I don't know how Abbevillians voted, however.
Two comments that C. J. made about his importance to the running of the newspaper, deserve to be quoted. On 12-30-1876, he wrote, "No Banner issued today as the printers i.e. myself took a holiday." Six months later, when W. W. was to be gone for a week, C. J. wrote, "I will run the Banner during his absence as I do when he is here."
The Banner survived only one year and was last printed on August 11, 1877. An article clipped out of a New Orleans newspaper and pasted in C. J. Edwards' diary gave this explanation for the Vermilion Banner's short existence: "Delinquent subscribers and the indifference of businessmen."
When C. J. set up the last edition of the newspaper, a number of people were on hand to mourn the demise of the paper. However, C. J. named only "the Misses Area," Kate and Mary, daughters of Mr. and Mrs. W. F. Area. He had written in the Banner—I assume that it was he, a week or so before the end of this newspaper—that, "Misses Kate and Mary Area placed us under lasting obligations for a couple of baskets of the most delicious peaches grown upon their father's place..." The item went on to describe the peaches as being "some 7, 8, 9, and 10 inches in circumference," and as being "the finest we have seen in the State." I wonder if his obvious feelings for these young women somehow clouded his judgment in this matter.
In his first years in Abbeville, C. J. was captivated by several local young maidens. He mentioned, I'm saying without counting, Kate Area the most. After his first glimpse of her aboard the Mattie, as it sailed past Perry's Bridge, where he lived awhile in 1877, he wrote about her several times. On one such occasion, C. J. indicated much interest in her at a croquet game at Mr. A. G. Maxwell's home.
C. J. mentioned interest also in Misses Mary Area, Emma Eldredge, Annie Tolson, and Mary Lyons. Unfortunately, his diary ended in 1882 so we have no account of his courting, his falling in love with, or marrying his wife, Miss Kate Young.

Kate Young
[Photo courtesy Sheila and Wakeman Edwards Linscomb]
C. J. and Kate were married at her parents' home on October 7, 1887, some four and a half years after he received his "M.D. diploma." Her parents were Dr. and Mrs. F. D. Young. As you may recall, Kate's mother was Mary Mathilde Guegnon, daughter of E. I. Guégnon, founder of the Meridional, the very newspaper with which Dr. C. J. Edwards would become inextricably bound.
Not only did his diary end in 1882, he also wrote nothing between 1878 and 1881 leaving a huge gap in our knowledge of C. J.'s life and a loss of numerous scenes of insight about Abbeville as well. As noted in a previous article, it was his future brother-in-law, N. C. Young, who convinced C. J. to become a physician. For some period of time, unknown to me, Clarence had studied and read in the office of Drs. F. D. Young and W. G. Kibbe.
In February 1881, at the age of 22, and without any formal undergraduate education, C. J. left for Louisville, Kentucky to attend "a course of medical lectures." By August 27, 1881, he had finished the course, had visited some relatives in Indiana, and had returned to Abbeville. It was during the next few months that he taught school, and had clerked at Mr. Martin's. In November 1882, he returned to Louisville where on February 27, 1883, only three months later, C. J. Edwards was "awarded his M.D. diploma" from the Kentucky School of Medicine. He didn't attend school long to have been awarded his degree. Perhaps he was brilliant; also quite probable was that there was much, much less to learn in the practice of medicine over a century ago.
Anyway, C. J. had become Dr. C. J. Edwards, and he was ready to set out his shingle. Apparently he began his practice in Arkansas, the state where he was born in 1858.
In 1884, Dr. Edwards returned to Abbeville. He then went to New Iberia to start a new practice. By May 1885, he was back in Abbeville, in partnership with Dr. F. F. Young, one of his future brothers-in-law. Their office was on South Street across from Magdalen Square. A year later, Dr. Robert J. Young, yet another future brother-in-law, entered into a partnership with them. These doctors would eventually establish separate practices in Abbeville.
In 1892, Drs. C. J. Edwards and R. J. Young bought N. C. Young's drugstore on the corner of Port (Père Mégret) and Washington Streets, across from Magdalen Square. This drugstore became known as the Young & Edwards Drugstore. Here too, the post office was located for awhile. By 1894, Abbevillians could drink at the soda fountain while waiting for their prescriptions to be filled. They could also pick up their mail here. Remember, at the time, one could pick up one's mail only at the post office; there was no home delivery service. So, while there were other drugstores and other soda fountains around town, the combination of these two and the post office must have made this one popular spot in Abbeville.
In 1894, Dr. Edwards was appointed by Governor Foster to a board to assist in the control of the new State Leper (Hansen's Disease) Hospital. I'm uncertain if this hospital was located at its present site in Carville. Dr. C. J. Edwards remained on this board many years.
In yet another aside, let me point out that Governor Foster won the governorship in 1892 when the major election issue was the corrupt state lottery. Governor Foster, and the Meridional, of which Dr. Edwards was part owner, were anti-lottery. I am not implying that Dr. Edwards' position on the lottery issue was the reason that he was appointed to this health board. I'm noting only an interesting association, and feel that in this state-wide political battle, Dr. Edwards and his newspaper were on the winning side.
Dr. Edwards was apparently appointed parish coroner in 1897 to fill the unexpired term of the late Dr. P. Lucius LeBlanc. In 1900, having no opponent, Edwards was "reelected." In June 1903, he, as coroner, and Sheriff J. Oscar Hebert traveled to Gueydan "by team" (in some sort of horse-drawn vehicle) to investigate a fatal shooting. I don't know about the interim years, but in 1912, Dr. Edwards was coroner.
In July 1905, the town council appointed Drs. Edwards, M. R. Cushman, and Messrs. L. O. Broussard, and D. L. McPherson as a Board of Health, because of another Yellow Fever Epidemic in New Orleans. This board declared the last Yellow Fever quarantine for Abbeville. The Southern Pacific railroad was instructed not to sell any tickets to Abbeville from any points east of New Iberia during the duration of this quarantine.
By 1905, mosquitoes were known to be the transmitters of Yellow Fever. Therefore, Abbevillians were "instructed to pour at least two cups of coal oil in every cistern, stagnant pool or pond... and to use lime or crude carbolic acid in and around water closets, sinks or cesspools." This occurred shortly before a municipal water system had been developed, so imagine all those mosquito-producing outhouses! And how tasty could that cistern water, spiked with coal oil, have been? Luckily Abbeville was spared the scourge of Yellow Fever, this time.
In 1915, Dr. Edwards was elected President of the Parish Medical Society; he was also elected as a delegate to the State Medical Society. By this time, one of his sons, Dr. H. G. F. Edwards was a member of this society also. The son was coroner in 1914.

H. G. F. Edwards (holding Francis Racine Edwards),
Wakeman W. Edwards, Dr. Clarence J. Edwards, about 1919
[Photo courtesy Sheila and Wakeman Edwards Linscomb]
Speaking of his son, let's look at Dr. C. J. Edwards' family. As we noted, he and Kate Young married on October 7, 1887. By this time he was in a partnership with two of her brothers, Drs. F. F. Young and R. J. Young. Dr. Edwards had celebrated his 29th birthday only four days before the wedding. I don't know where this couple's home was initially. However, they moved into their "new" house "adjoining the Convent," sometime in late 1891. This large, beautiful home can still be seen today. It sits splendidly, snuggled amid all sorts of trees, flowers and other plants, gracing the north side of the Meridional's office and stands like a monument to the genteel way of life which a few of our ancestors enjoyed.

Home of Dr. Clarence J. Edwards, 1902
[Photo courtesy Sheila and Wakeman Edwards Linscomb]
Home of Dr. Clarence J. Edwards, 2004
(Zola B. Baudoin, owner)
[Photo by Gary E. Theall]
We almost missed the opportunity to enjoy its beauty. In April 1914, a small blaze "in the kitchen roof" tried to destroy this home. However, it was extinguished quickly. I wonder if there is evidence of this fire in the attic today.
Kate and Clarence had four sons according to Miss Mathilde Edwards, their only surviving daughter, and according to Dr. Edwards' obituaries. They were Dr. Harold, the oldest child, who was born in 1888; Mark Hollingsworth (Holly); Floyd D.; and Wakeman Wakeman. The obit listed the latter as W. W. Edwards, Jr. It is interesting to me that both sources did not mention a sixth child—Henry Edwards. Perhaps his short life and early death were so painful that Ms. Mathilde Edwards blocked it out of her mind. Perhaps he was not mentioned because he had been dead almost 60 years when I spoke to Ms. Edwards in 1975.
It is August 20, 1997, almost two years since this article appeared in the Meridional. It was I who had blocked the discussion of Henry out of my mind. I just reviewed a taped interview that I had with Ms. Edwards and she did tell me about him. However, the obituaries of Dr. Edwards did not mention Henry. Since it was so many years since Henry had died, Ms. Mathilde was vague about him. In this interview, she told me about the order in which she and her brothers were born. She told me that Harold was born first, then came Mark, herself, Floyd, and Wakeman Wakeman Edwards. She went on to say that there were fourteen or fifteen years difference between Wakeman's birth and the birth of Henry. Therefore, most of Henry's siblings were already grown.
Ms. Edwards said that little Henry died at the age of 6 years. The family donated, as a memorial, a stained-glass window to the St. Anne's church [now St. Mary Magdalen church]. Mrs. C. J. Edwards had wanted to use a picture of St. Henry to represent her son in the window's scene. However, the priest, presumably Father Bollard, assured her that her son, having died at such a young age, was himself a saint. Therefore, the priest encouraged the family to use a photo of their son as a model for the child depicted in the window. The stained-glass company said that it could be done, but copied only his head. When the stained-glass window arrived in Abbeville, the family was not satisfied with the expression around the mouth of the child, according to Ms. Edwards, and notified the company, which she believed was located somewhere in Belgium. Since World War I was raging on in 1916, I wonder if her memory was correct about this location. At any rate, the company sent another head, which the family accepted. Today, Henry's sweet, innocent face smiles down at us so life-like from the window as though from a photograph, while the angel's face seems illustrated and less realistic. Ms. Edwards said that she had the first stained-glass face of Henry wrapped up somewhere in her belongings, but I didn't follow up on this, and I never got to see it. Now, over 25 years later, I wonder if that stained-glass face still exists in the home of one of her relatives. It would be most interesting to see today, and to compare it to the one in the church's window.

[Stained glass photo by Gary E. Theall; Henry Edwards photo
courtesy Sheila and Wakeman Edwards Linscomb]
Previously, I've expressed my own feelings or speculated on the feelings of those we have visited regarding the death of one of their loved ones. Here, I'll let Dr. C. J. Edwards' own words express his soul-tortured feelings about Henry's death: "The light of our home has fled, a voice whose sound was sweet melody is forever stilled and all is dark and dreary where his joyous presence brightened like the Spring sunshine. Only those who have borne the heavy cross of human anguish and sorrow, can know the grief which plucks at our very heart strings." This literary scream of torment surely expressed Kate's feelings as well. Dr. Edwards' lament appeared in the Meridional on July 29, 1916.
Again, years after this journey into the past appeared in the Meridional, I discovered that Dr. and Mrs. Edwards had previously tasted the bitter bile of losing a child, in fact, two of them. On June 10, 1905, their "newly born infant son" died and was buried that very day in the "new" Catholic Cemetery, which is located behind Mount Carmel Elementary. If I read the information correctly, the Edwards baby and 57-year-old August Faisans were the first two individuals to be buried in this cemetery. In a related article that appeared in the Meridional, on June 17, 1905, it was stated that "the first interments in the new Catholic Cemetery occurred last Saturday and they were the extremes of life, an infant and an old man."
Two and a half years later, Dr. and Mrs. Edwards lost yet another infant. This one was Catherine Martha, who died on December 20, 1907, at the age of "1 year, 4 months, and 5 days." Now we know who the Catherine, mentioned along with Henry on the stained-glass window is. I suppose that the Edwards' infant son, who died the day he was born, in 1905, was unnamed.
When Wakeman left to go St. Louis to seek his fortune, in 1918, Dr. C. J. Edwards had a few comments to make about this son's move away from home. He said that Wakeman was the baby of the family and the "last of our boys to leave the parental roof tree. Youth's fond hopes can always see the pot of gold at the end of the rainbow, but the old home is lonely while the chase is on."
Little Henry had developed blood poisoning and was taken by Dr. Edwards to the Sanitarium in Crowley for "surgical treatment" on Sunday July 23, 1916. Henry died three days later on Wednesday July 26, 1916, a few weeks before his 7th birthday. How helpless we feel because of the suffering and death of a loved one. How much more so must it be for a physician, the healer among us!
Dr. Edwards, a Democrat, showed an early interest in and a propensity for politics. In addition to noting his 18th birthday in his diary on October 3, 1876, Clarence also observed that the day had been "selected for the Grand Democratic Mass Meeting and Barbecue at Abbeville."
On April 10, 1894, Dr. Edwards was elected to succeed Don Caffery as State Senator, and was assigned to the important judiciary committee. Contrary to his obituary, Edwards did not serve a full four-year term. He was defeated in 1896 by F. B. Williams. While he may not have been too popular with other Vermilion Parish residents, Abbevillians certainly considered him a leader. He was elected yearly, from 1890 through 1895, as town councilman. It's interesting to note that he continued to serve as alderman during his first year as State Senator. From 1903 through 1907, Dr. Edwards served as a councilman again.
At the time of his death in 1920, Dr. Edwards was Chairman of the parish Democratic Executive Committee, and was still serving as President of the School Board. He was elected to this office in 1912.
In addition to political offices, Edwards was involved in business ventures, as well as in social organizations. He was the first president of the board of directors of the Abbeville Building & Loan Association in 1890. In 1898, he still held this office. In 1915 he was elected once again as president of ABLA. Dr. Edwards was the first president of the board of directors of the East Side Canal Co. in 1901. This company was to have built canals, and rice mills, etc.
There were high expectations that oil would be found on Dr. Edwards' property. On the downward slope of a ridge on his property near the Vermilion River, there were several springs. "The soil near the springs is of a spongy nature, and continually emits gas bubbles and if a stick is thrust into the ground and a lighted match is applied, a miniature explosion occurs and a beautiful blue blaze will burn for minutes." This quote form the New Orleans Times Democrat was printed in the Meridional in 1901.
It was assumed that this evidence of gas was a sure bet that oil would be discovered there. Not surprisingly, the Vermilion Mineral and Oil Co., Ltd. was organized and Dr. Edwards was its first treasurer. More than 80 individuals, including Eli Wise, W. P. Edwards, W. W. Edwards, A. Kaplan, L. O. Broussard, J. T. Labit, D. L. McPherson, Martin Bagley, and L. Sokoloski, invested in this company. Alas, they do not seem to have realized their dreams. Perhaps someone can tell us for sure. The gas deposit on his land, if that is what it was, must have caused visions of black gold and of striking it rich—Cha-ching!
In 1877, while still a teenager, C. J. became a member of the Abbeville Literary Society, which had been organized in 1875. In his first debate sponsored by this club, C. J. had been on the affirmative team. The issue was, "Should the right of Suffrage be conferred upon women?" According to his diary: "My effort surprised some of the natives and brought the house down several times." His leadership abilities were such that in that same year, he was elected president of this society over Lymon C. Lyons, who had been our sheriff the previous year.
Dr. Edwards was also a member of the Knights of Pythias, the Woodmen of the World, and of the Masonic Lodge. In fact, one of his obits indicated that he had been "one of the oldest members" of the latter organization at the time of his death. In 1907, he even served for a short time as manager of the power plant. The town council had elected him to this position temporarily.
As I've said earlier, one of Dr. Edwards' passions was journalism. We cannot finish this visit without reporting on his connections to the Meridional. Perhaps his first admission of this newspaper's existence, in his diary, was shortly before the Vermilion Banner was first published. He referred to our perpetual paper, on July 21, 1876, as "a half sheet hand-bill," which, although not perfectly understood by me, doesn't sound too flattering. How ironic that the disdain he showed for the Meridional would change so drastically that he would eventually become owner, editor and publisher of our newspaper.
His first direct contact with this paper was on August 10, 1878, when "a few articles from my pen" appeared in it. In 1891, he bought half interest in the Meridional from E. I. Addison and became its business manager.
On January 1, 1901, the beginning moment of the Twentieth Century, and shortly after E. I. Addison's death, Dr. C. J. Edwards took complete management and ownership of the newspaper. Nineteen years later, almost to the day, when Dr. Edwards died on January 14, 1920, he was still editor and manager of the Meridional. It seems to me that his editorials, especially in his final years, were strong, unrestrained and articulate statements about things that he felt were wrong. Also, to me, his editorials showed his marvelous eye for details and his skills as a writer. His power and influence on this newspaper can be measured, in part, by the fact that the general public had to be reassured that his death "will in no way cause an interruption in the business of the Abbeville Meridional," as was stated in this newspaper on January 24, 1920. Also in this issue, the manager was listed as F. D. Edwards, son of Dr. Edwards. Beginning on February 14, 1920, Mrs. C. J. Edwards began being listed as "proprietress" of the Meridional, while F. D. Edwards continued to be listed as manager.
Even though he wore more proverbial hats than most individuals, Dr. Edwards still had time to enjoy gardening. As early as 1893, his garden was mentioned in the newspaper, because he had two camphor trees, apparently rare plants for this area at that time. In 1912, he had several "experimental plots" on which he was growing plants that the Department of Agriculture considered "useful." This governmental agency was attempting to introduce these plants "into suitable localities in this country." The "useful foreign plants" included giant bamboo, a Chinese wood oil tree and kudzu. I'll bet that the residents of Milton, La. consider kudzu as anything but useful.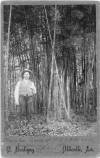 [Photo courtesy Sheila and Wakeman Edwards Linscomb]
AND THEN HE WAS DEAD!!!
Dr. Edwards died suddenly at his residence from "acute heart failure," at the age of 61. Several obituaries appeared within days of his death, including a brief one in the New Orleans Times Picayune. In one obituary, Dr. Edwards was said to have been the "genial savant," socially. He made "no parade of his learning yet (was) unable to conceal the brightness of his intellect or the kindness of his heart." It added that he had a "few foibles," which served to endear him "the more to those close enough to him to observe them."
These thoughts made me realize that all the other individuals that we have visited in our journeys into the past had their faults and shortcomings too, even though they are generally unknown to us today. These individuals were only human. Their "heroic deeds" were achieved in spite of their weaknesses.
Quoting once more from Dr. Edwards' obituaries, here is one final tribute that was paid to him: "Had he lived in that olden time when men's attributes became a surname, he would have been known here as 'Clarence the Good-hearted..."
His wife, Mrs. Kate Young Edwards, died on August 4, 1926, "at the age of fifty-nine years, two months and three days." Her obituary gives us knowledge of her surviving children and where they were living at the time of her death. Dr. H. G. Edwards was living in Lafayette; Mark H. Edwards was living in Reedley, California. Her other children: Miss Francis Mathilde Edwards, Floyd D. Edwards and Wakeman W. Edwards continued to live in Abbeville.
Well, our visit with Dr. Clarence Jeptha Edwards is over. He shone among us for a short while—like a child's bright sparkler—and then he was gone. From salt miner to State Senator, from parent to physician, and from Mason to journalist, Dr. Edwards influenced the direction of his family, our town, and even of our state.
May we remember him, each in our own way.
---