Judge William Kibbe
by Gary E. Theall
Traveler, soldier, lawyer, judge, mayor—William Kibbe, who was all of these things, played a leading role in the early development of Vermilion Parish. William Kibbe was born January 3, 1813, in Minehead, Essex County, Vermont. His parents were Gaius Kibbe and Nancy Kidd.
Gaius Kibbe, sixth child of Isaac II and Margaret Terry, was born in Enfield, Connecticut, on August 10, 1765. Gaius married Mary (Polly) Pease (1767-1802) in Enfield, with whom he had nine children. He held various offices at Enfield. They moved to Columbia, Coos County, New Hampshire, in 1797, and later moved to Bloomfield, Vermont. Polly died there on May 11, 1802. Gaius then married Nancy Kidd (born December 15, 1777, died September 15, 1840, at Bayou Chicot, Louisiana) in Chesterfield, Massachusetts, on March 17, 1803. Nancy was the daughter of Charles Kidd and Frances Hamilton. Gaius and Nancy moved to Minehead, Essex County, Vermont, where our subject, William, was born, then in 1814 they moved to Buffalo, New York. Their children were Charles Kibbe, born August 30, 1804, in Minehead, who married Joanna Booth on February 30, 1830, in Lafayette Parish, and later moved to Tyler County, Texas, where he died on November 20, 1850; Nancy Kibbe, born 1810, died 1881; and William Kibbe, born January 3, 1813.
Gaius Kibbe received a grant of land in the Attakapas district of Louisiana and decided to move his family there. They traveled by wagon to Orleans Point, New York, the headwaters of the Allegheny River. They built several river barges for the trip and launched them in 1819. The story of the two-year trip to Louisiana from New York is best told by Fanny S. Kibbe Fowler, in the following excerpt from an essay which she wrote in 1922, incorporating the account written by her mother:
To illustrate the danger and difficulties of early travel to the South one hundred years ago I may recount the voyaging of my mother's family as related by her and written many years ago:
"Gaius Kibbe, Sr., was born in Enfield, Conn. in 1765 where his grandfather (Isaac Kibbe I) had laid out the town in 1682 on a Grant of land from Mass. Colony for the services rendered as surveyor. About 1800 this branch of the large family were living in Vermont. Then moved to Buffalo, New York, where the father built a brick house known as the Old Eagle Tavern which was the only house of any size left standing when the British burned the city, and was used by the Presbyterians as their meeting house until a church could be built.
"For patriotic service and property leases Gaius Kibbe was given a grant of Land in St. Mary Parish, Louisiana. In 1820, having located his land, he with a large family of sons and daughters and two sons-in-law built three houseboats on Lake Chatauqua and started on their long voyage on to the Gulf. Having visited the section and knowing its needs he took all the household effects, horses, cows, and even poultry, with wagons and tools and farming implements, also doors for the new homes. The houseboats as I remember them were quite comfortable, each boat had rooms large enough for bedsteads and dressers and heated by stoves. They were propelled by large sweeps which operated from the nearly flat rafts and used to direct them and keep them in current. Proceeding down the Allegheny to Pittsburgh, they voyaged as far as Cincinnati where they tied up for the winter at an Indian Village on the Kentucky side of the Ohio; trading goods and such things as they had brought along for that purpose, for corn, dried meat and game from the Indians who by that time were friendly and useful. When the ice broke up in the springtime, one of the boats was caught in the jam and sunk. Mr. Charles Dudley, Lucy Kibbe's husband, was lost in the ice. His widow and little son and the oldest brother, Gaius Kibbe, Jr., remained in Cincinnati. Starting again under such distressing circumstances, the current borne them on without other accident to the Mississippi River. The Journey was long and tedious and the work was hard, as the boats had to be tied to the banks every night to be out of the way of other crafts or the more dangerous drift of great logs on the swollen river. In June they reached the mouth of the Red River and slowly poled against the current as far as the Achafalaya River, which they descended to their settlement on the banks of Bayou Teche. Hard work of building houses and clearing new land as well as exposure to the almost tropical heat and dampness soon gave the new settlers the malaria fever from which the father, Gaius Kibbe, died on July 21,1821. An elder sister (Mary Kibbe Bennet), the wife of Major Valentine Bennet, U.S.A., and their infant also fell victims of the fever. The widow settled up the effects as best she could, shipping her heavy baggage by steamboat from Natchez to Cincinnati, then down the Tennessee River to Florence, Alabama, where the oldest son had a contract with the government to improve the River at Mussle Shoals. My mother and the four children made the journey by land in a light wagon drawn by two horses and driven by the sixteen-year-old son, Charles, through the Choctaw Nation to the Tombigbee from Natchez, Miss. Some remnants of this road can still be seen in the hillside washes about Brookhaven, Mississippi, and eastward to the Pearl River to Monticello and Columbia ferrys. At length they struck the military road from Texas where the settlements were closer and they did not have to camp out in the wilderness, arriving at Florence without serious accident. The family lived in Florence until 1835 then came down to Mobile by wagon road to the head of Navigation on the Tombigbee, then by steamboat to Mobile and New Orleans, and again up the Mississippi River and the Red River to the Achafalaya River and their old neighborhood on the Teche where some of their descendants lived yet."
William was about six years old when he made the long river voyage with his father. Nancy Kidd Kibbe died September 15, 1840, at Bayou Chicot, Louisiana, and is buried there.
William Kibbe went to college and obtained a law degree. He moved to Texas in 1833 or 1834, while it was still Mexican territory. Texas declared its independence from Mexico on March 2, 1836, and four days later William joined the Texas Revolutionary Army. Mexico sent its great general, Santa Anna, to put down the revolution in Texas. After the Mexican general showed no mercy to the heroes at the Alamo, the Mexican army continued its destructive march toward east Texas, where General Sam Houston was raising an army. William Kibbe served in that army as a second sergeant in the infantry of Captain William M. Logan's Company under the command of Col. Sidney Sherman. The famous Battle of Texas Independence took place at San Jacinto, Texas, on April 20 and 21, 1836. The first day, April 20, is referred to as the "skirmish." On that day, William's company was ordered to flank Santa Anna's line and attack behind enemy lines. During the skirmish, William's grey horse was shot out from under him, and William's leg was pinned under the fallen horse. He was approached by two Mexican soldiers and feared the worst. Upon seeing William's long blonde hair and beard, the soldiers thought that he was a very old man, and spared his life. William was only 23 years old at the time! He was later rescued by the Texas troops. The main battle took place the following day, and Sam Houston's army decisively defeated Santa Anna, decimating the Mexican forces and capturing the general himself. Texas won its independence from Mexico, and William Kibbe played a part in it. William was granted an eight day medical leave to recover from his injuries. William's name can be found on the plaque dedicated to the soldiers of the battle at the tower and monument which marks the battlefield at San Jacinto, Texas. The monument reads as follows:
"My country will do justice to those who serve her. The rights for which we fight will be rescued and Texas free." General Houston, April 19, 1836
"Officers and men of the Texas Army who participated in the battle fought here April 21, 1836, or in the skirmish of the previous day."
[List of names, including William Kibbe.]
After the war, William Kibbe returned to Louisiana. He married Louise (Louisa) Selanie (Selene, Selena) Campbell (born December 31, 1817), daughter of Benajah Campbell and Eloyse (Louise) Phelonise Trahan, in Lafayette Parish on September 21, 1837. After the marriage, the state of Texas issued a Headright Certificate to William Kibbe on March 15, 1838, for one-third of a league of land (almost 2,000 acres) in Liberty County, Texas. For his participation in the battle, he was issued Donation Certificate No. 379 for another 640 acres of land, and for serving in the army from March 6 to June 6, 1836, he was issued Bounty Certificate No. 3948 for 320 acres of land. Both of these latter certificates were issued on June 27, 1838.
William Kibbe and Selanie Campbell had four children: Francois Kibbe, born July 11, 1839, in Lafayette Parish; Marie Amenda Kibbe, born October 31, 1840, in Lafayette Parish; William Gaius Kibbe, born January 25, 1842; and Francis "Fannie" L. Kibbe, born about 1843. Selanie died in 1844, the same year that Vermilion Parish was carved out of Lafayette Parish. Shortly thereafter, William Kibbe married Keziah (Kesiah, Kiziah) Campbell, who was a cousin of Selanie Campbell. William Kibbe and Keziah Campbell had six children: Marie Clara Kibbe (never married), born about July of 1848; Erastus [Erastes] C. Kibbe, born about 1857 in Abbeville; Levi Hampton Kibbe, born December 24, 1847, in Abbeville, died March 27, 1924; Charles Oscar Kibbe, born in Abbeville in 1853, who married Clara Perry, daughter of Gus Perry, and moved to Orange, Texas, where he died; Louis Henry Kibbe, never married, died 1932 in Abbeville; and Oliver (Ollie) Kibbe, never married.
William and Selanie Kibbe lived in the area of Perry's Bridge about 1842, where William began to practice law. On July 25, 1843, he was the Notary Public on the deed by which Pere Antoine Desire Megret purchased from Joseph LeBlanc the land on which to build his church and found the town of Abbeville. When Vermilion Parish was established in 1844, Governor Alexandre Mouton appointed William Kibbe as the first parish judge. William served off and on as judge until his death on August 15, 1878. As stated by William Henry Perrin in his Southwest Louisiana Biographical and Historical, L. Graham & Son 1891 (Claitor's Publishing Division 1971), at pages 252-253:
The State Constitution of 1845 abolished the office of parish judge; so the first parish judge, William Kibbe, served only one year, or thereabout. The constitution of 1868 reestablished the office of parish judge and E[ugene]. Guegnon served from 1868 till 1874, at which time William Kibbe was again elected, and served until his death in 1878. Kibbe was an old Vermonter. He had served in the war of Texas and Mexico, and was left wounded upon the field, which was in possession of the Mexicans. His life was spared because of the whiteness of his hair, the Mexicans having taken him to be an old man.
In 1847, William served as president of the Board of Administrators of public schools. In 1866 he also served as mayor of Abbeville. He is buried in the Old Masonic Cemetery in Abbeville, where his tombstone reads (see picture), "In Memory of William Kibbe, born in Essex Co., Vermont, January 3rd, 1813, died near Abbeville, August 15th, 1878. For thirty six years the deceased was an honored and respected citizen of Vermilion Parish. He died beloved and mourned by all who knew him." His tombstone would indicate that he moved to the area about 1842, two years before it actually became Vermilion Parish, and two years before his first wife died. At the time of his death, he was an honorary member of the Texas Veterans Association. Keziah Campbell Kibbe died December 19, 1897, and is also buried in the Old Masonic Cemetery in Abbeville.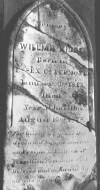 By Gary E. Theall
---