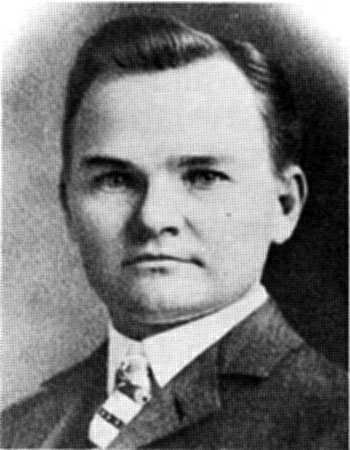 Dr. F. F. Young and the
Fenwick Sanitarium/Palms Hospital
by Kenneth A. Dupuy
Dr. Francis Fenwick Young gave us the Fenwick Sanitarium, which was eventually transformed into the Palms Hotel and finally into the Palms Hospital.
Dr. F. F. Young, born on July 30, 1863, was the oldest child of Dr. F. D. Young and Marie Mathilde, née Guégnon. According to one source, Frank had nine siblings and a half brother, N.C. Young, a pharmacist. Frank's brothers included Drs. Marion, Robert J., Lawrence, and Warren G. Young. He and they were grandchildren of E. I. Guégnon, the founder of the Meridional.
In 1881, Frank received a B.S. degree from the Jesuit College at Grand Coteau, then studied medicine with his father in Abbeville. He enrolled in the College of Physicians and Surgeons in New York City in October 1882. By October 1884, he was in a medical partnership with his father. By May 1885, he had entered into a partnership with his brother-in-law, Dr. C. J. Edwards. In 1886, his brother, Dr. R. J. Young, joined this partnership. By 1888, Dr. F. F. Young had moved to Royville [Youngsville].
Dr. F. F. Young and Noemie E. Roy, the daughter of Mr. and Mrs. Desire Roy, of Royville, were married on November 13, 1886. By the time of the 1900 census, they had had 7 children. Their fifth child died in November 1892, only 24 days after his birth. Their other children, in 1900, were F. F. Jr., Dalton, Mattie, A. Laurie, Roland, and Carl. Another son, R. Blenk, was born in 1907.
Earlier, in 1892, Dr. Young became "desperately ill" with cerebrospinal meningitis. His brother, Warren, and other physicians also came to his assistance. It took him six week to convalesce. In September 1899, his brothers, Drs. Warren and Marion, came to his aid.
Warren and Frank were apparently quite close. When the latter's 6-year-old son, Laurie, came down with typhoid fever in 1897, Uncle Warren treated him. These attacks of illnesses on him and on his family surely made Dr. F. F. Young more sensitive to his patients' sufferings, uncertainties, and fears.
Eventually his residence was located near the center of the block upon which now stands the Hibernia Bank building on Charity Street, across the street from the Fenwick Sanitarium/Palms Hospital. The home had belonged to his grandmother, Mrs. E. I. Guegnon.
In 1897, he leased a lot in the middle of the block on the south side of Magdalen Square. Shortly after his office was constructed, Dr. Young's ad in the Meridional read:
"Dr. F. F. Young,
Physician & Surgeon
Special Attention to
Diseases of Women, and Diseases of Nose,
Throat, Ear and Lungs."
Reportedly, Dr. Young's practice amounted to over $11,000 in 1897.
His private office and operating room housed "the latest improved instruments and appliances," for the treatment of the "diseases of the ear, nose and throat," electro-therapeutic appliances, and "splendid equipment for treating lung diseases by the inhalation of certain drugs in the form of pleasant soothing vapors."
In April 1899, Dr. Young gave notice that he would open a "cottage sanitarium" for "any and all cases," later that month.
Later in 1899, the Republican Idea reported that Dr. Young's sanitarium had opened in the former residence of S. P. Womack and family. The newspaper added that such an institution was needed for invalids and others in the doctor's care, "as good sanitary conditions are most essential as an adjunct to the Physician's skill."
By December 1899, Dr. Young had established the "Fenwick Sanitarium," not in Abbeville, but in Hot Springs, Arkansas. Dr. H. Bascom White, a son of Dr. W. D. White, was in charge.
On August 4, 1900, the Meridional reported on the "Fenwick Sanitarium." Dr. F. F. Young had located his sanitarium in the "large and handsome residence of Gus Godchaux just below [south of] the railroad depot; the property has a beautiful front on Bayou Vermilion affords facilities for fishing and boating and is well shaded by magnificent oaks all combining to make the location an ideal one for a health resort." It was mentioned that the sanitarium was for the treatment of the "drug habit." The article added that the facility "has acquired a reputation that exceeds beyond the borders of the state and the success met with in the treatment is phenomenal and as its fame spreads crowds of patients will be attracted to Abbeville."
Dr. Young and his family apparently moved to New Orleans in February 1900, but by June 1900, he had returned and was "fitting up" his office, which had been occupied by Dr. R. P. Nelson, a dentist.
Governor Murphy J. Foster appointed Dr. Young as parish assessor in late 1892 or in early 1893. He held this office until October 1895.
Mike Gordy, a local builder, constructed a building specifically designed for Dr. Young's sanitarium. By September 20, 1902, the foundation was laid and completion of the building was targeted for January 1903. In February 1903, a windmill was erected for the sanitarium by W. W. Maxfield, to provide an adequate water supply. Municipal water was a few years away. By April 1903, the sanitarium was being enlarged. Demand for services must have been greater than anticipated. This need for services illustrates how serious and extensive substance abuse was even then.
Fire attacked the sanitarium around 8 p.m., on February 6, 1906, during a "blizzard and sleet storm." The occupants abandoned the building in a terrified rush. This sanctuary for many was destroyed. People and vehicles were mobilized to move the 45 "inmates" to safety.
Families living in the homes surrounding that mass of swirling flames and smoke opened their doors and their hearts to these helpless patients. G. A. Levy, then manager of the Hotel Vermilion, opened an entire floor of his three-story hotel to the remainder of the patients.
The three-story sanitarium had contained 95 rooms. Treatment there was for liquor and drug habits, and for nervous diseases only. It was estimated that the loss from the fire was $100,000, only $30,000 of which was covered by insurance.
The police jury exempted the sanitarium property from parish taxation for 10 years and the town council made an identical offer of exemption from municipal taxes if Dr. Young would rebuild. Such actions were rare and illustrate how essential the Fenwick sanitarium had become to the economies of the parish and of the town.
Dr. Young rented the residences of Leon J. Feray and of Mayor Leguenec to continue providing care for the patients. Dr. Lawrence Young took charge of the sanitarium in July 1906 during a brief absence of Dr. F. F. Young.
At the beginning of May 1906, work began on rebuilding another Fenwick Sanitarium. It was "to rise on the ruins of its former self." George Honold was the architect. Mike B. Gordy, who built the first Fenwick, also constructed the second one.
This building was to measure 286 feet by 100 feet. During its construction, Dr. F. F. Young used "some of the best residences of Abbeville," and was able to continue providing treatment to his patients. By the end of July, 1906, construction was nearly complete. Dr. Young traveled to Chicago and New York City to purchase fixtures and furniture for his sanitarium.

Ever the innovator, Dr. Young also established a training school for nurses, probably the first in the Acadiana area. On May 14, 1906, he and Drs. C. J. Edwards, Warren G. Young, Robert J. Young, and Miss Emma McHenry formed a corporation titled "The Fenwick Sanitarium Training School For Nurses." The goal of their training was to qualify the students "in the nursing of the sick in medicine, surgery, midwifery.... and all diseases that man is heir to." Dr. F. F. Young owned 54 of the 60 shares of this corporation's stock.
And what did the interior of this elegant, three-story sanitarium look like? For the answer, I interviewed the late Ms. Kate Young, a niece of Dr. F. F. Young and the daughter of Dr. Robert J. Young. Nine-year-old Kate and her family moved into their new home on the corner of East and Charity Streets in 1904.
Kate was an eyewitness to the construction of the second Fenwick Sanitarium, only a block from her home. She was even closer to the action when she attended a private school in the upstairs of Dr. F. F. Young's residence, where she would step out onto the gallery and watch the building take shape.
Here then are her recollections.
"When you went in, there was a lobby and on the west side was a parlor. On the right side was a reading room and a writing room.... The parlor had those great big mirrors and the ceilings were high, and those French windows. In the parlor was some kind of French furniture. It was all gold, gilded. Beads separated the entrance from the lobby."
There were two stairways, one on each side of the lobby. On the second floor there was a room where new patients were received. Also, there was a switchboard and an operator. On the north side of the second floor was an operating room; Dr. Young's office was on the west side of this floor. There were other rooms on the second floor, but Ms. Young did not indicate what they were. Later, when others took over the sanitarium, each physician took a piece of marble when some of these rooms were dismantled to make room for another operating room. The third floor housed the nurses' quarters. They had a lecture room and a large reception room "where they could entertain and all."
Ms. Young reported that the "bishop's quarters" had been located on the second floor. Also, she recalled that the sanitarium's foundation had been built with bricks manufactured by the Caldwells—George and sons.
A gymnasium and a pool room also stood on the grounds. Ms. Young remembered that the gymnasium had "anything you could ask for."
Little Miss Young befriended the man responsible for directing the physical activities of the men and women. These groups exercised separately. "Uncle Frank gave him carte blanche." The doctor told Professor Sadlier, "You fix up your gym; that's your quarters." Also employed at the sanitarium was a gardener who had worked in the "king's gardens in England." Consequently, the sanitarium's gardens were "gorgeous." "All kinds of shapes and flowers, even one was the American Flag."
There was a vegetable garden that supplied the sanitarium and Dr. Young's family. Ms. Young said that he grew asparagus tips, and that he was the first one to grow artichokes in Abbeville.
Returning to Sadlier, Ms. Young assumed that he had noticed her playing alone. She had had no one to play with for a long time. "I guess I had a trapeze on every tree I could find." Sadlier asked "mama if I could go take exercises with the ladies, and she said, 'Yes'." Ms. Young remembered the gym equipment: punching bags, medicine balls, dumbbells and Indian Clubs, weights, and a set of parallel bars. There were also a trapeze and traveling rings hung from the ceiling. Also hanging were three ropes, which challenged those who dared. One rope was knotted, one had "wooden knots," and one was just a plain rope.
Ms. Young said, with a hint of sadness in her voice, that she thought that Mr. Sadlier had realized that "he was slipping." Therefore, he let her take charge under his supervision. "He was getting ready to teach me boxing when he died." Sadlier died on February 18, 1909, at the age of 42. By this time, Ms. Young was in high school, "must have been 7th or 8th grade." She went off to college in 1911, "but I didn't finish high school, I skipped." She attended Dominican College.
Two days before the grand opening of the second Fenwick Sanitarium, Dr. and Mrs. Young's last child was born. It was no accident that he was named Blenk. One of the honored guests, and a main orator at the grand opening, was "His Grace, Archbishop J. H. Blenk."
The newspaper reported that the Fenwick was "one of the largest private institutions in the United States." Small wonder, then, that the archbishop, Governor Newton Blanchard, and the mayor of New Orleans traveled to our town to speak at the formal opening. Mayor J. R. Leguenec, and District Judge M. T. Gordy delivered speeches, as did Gen. Leon Jastremski, a former Abbevillian.
A significant part of these events was the awarding of diplomas by the archbishop to the first four nurses who had completed their training at the sanitarium. Ada Stakes, from Crowley, was the only Acadiana woman in this graduating class. These opening exercises occurred at the courthouse, where "hundreds" had to be turned away.
That Monday night, January 28, 1907, a banquet was given at the sanitarium for "over five hundred persons," including "some of the most distinguished people in the State."
The Meridional stated, "Dr. F. F. Young has certainly achieved a distinct and unsurpassed triumph in making the opening day of his magnificent new Sanitarium, the most memorable occasion the town of Abbeville has ever known. Never in her history—or that of few other towns in the State—have so many distinguished citizens, the highest in religious and official station, been gathered within her gates at one time and for one and the same purpose."
In February 1908, Dr. Young was organizing a corporation with a capital of $500,000 for the operation of sanitariums in New York, Chicago, St. Louis, and Los Angeles. Again, the treatment was for "drug and liquor addictions."
According to Fenwick Sanitarium stationery, the institution was offering treatment for "Mild Medical and Surgical/Mild, Mental and Nervous Diseases/Drug and Liquor Addictions." The used letterhead is dated 1911, but it is obvious that the stationery was probably printed sometime between 1907 and 1908; Dr. Frank Fenwick Young is listed as Physician-In-Chief of the institution in Abbeville.
Dr. Young met with financial reversals, and on November 14, 1908, the charter of the Fenwick Sanitarium, Ltd., was filed. The new corporation succeeded to "the property and good will of Fenwick Sanitarium," which Dr. Young no longer owned. D. L. McPherson became the president of the new corporation, and Dr. F. F. Young became vice president. Dr. Warren G. Young took "entire charge" of the institution.
F. F. Young, Jr. graduated in medicine and surgery in 1911 and was to have located his office in the Fenwick Sanitarium by the end of the year.
In mid 1912, Dr. F. F. Young Sr. and family moved to Covington to continue providing treatment for drug and alcohol addictions. On June 22, 1912, a sheriff's sale was held in Abbeville. On the auction block was the departed doctor's property, including the Fenwick Sanitarium building and its 16 lots, Dr. Young's residence and its 12 lots, and 49 vacant lots in Dr. Young's Addition. This addition, in 1898, had included 150 lots. The property at the sheriff's sale was valued at $100,000. The Interstate Trust & Banking Co. of New Orleans paid only $24,700.
In April 1913, the Abbeville Progress reported that Dr. F. F. Young Sr. was surgeon-in-chief of the Fenwick Sanitarium at Covington, La. Dr. F. F. Young Jr. was managing a branch office in Atlanta.
Abbeville's Fenwick Sanitarium passed through the hands of several owners over the years. The Abbeville Progress reported that Dr. H. A. Eldredge in April 1914 rented the "old Fenwick and has already moved into it." He must have rented it from the banking company that sold it to Abrom Kaplan in 1919. By May 1914 he was "prepared to accommodate all Medical and Surgical cases." Dr. Eldredge assured other physicians that they could have complete charge of their patients in his facility. He also pledged that their patients would be "as private as in their own home." Still later, Dr. R. O. Young of Youngsville succeeded in getting the support of local physicians and reopened the sanitarium, but under the name of the Vermilion Sanitarium. The formal opening was on April 1, 1915. For a time, there were two separate undertakings in this building.
On the front page of the Progress—September 26, 1914—there is an illustration of "The Palms," a "Modern and Up-to-date Hotel." From newspaper accounts, we learn of several social events that occurred at this hotel. A dance was held there on Monday August 24, 1914. On November 14, 1914, "at the parlors of the Palms," sixteen couples played "500," a card game. Afterwards, "refreshments, sandwiches and wine were served." Also that night, an "Englishman" entertained those present with his exploits and experiences among the natives of South Africa.
J. Henry Putnam rented an apartment at The Palms, shortly before he died in August 1917. On another occasion his wife and daughter were "guests at the Palms." As was just stated, the Fenwick Sanitarium was reopened in 1915. Indeed, Mrs. McClellan—see below—noted in her report that Mrs. S. P. Watts used it as a rooming house, and that a hospital was being run by various physicians in another part of the building.
Dr. Preston J. Miller purchased the "old Fenwick Sanitarium, or the Palms Hotel as it has lately been known," in February 1920 from Abrom Kaplan, who had bought the property in September 1919. It was rumored that he would dismantle the building and move it to Kaplan, La. Such was not the case. Instead, Drs. Miller, Eldredge, and Boudreaux continued to operate the sanitarium as had been done "in the past." Interestingly, a newspaper item reporting on what would be a fatal accident stated that the victim had been brought to the "Eldredge-Miller-Boudreau sanitarium." Apparently it had no specific name in late September 1919, about the time that Kaplan purchased the property. Mrs. S. P. Watts retired, and Mrs. W. C. Mays took over the running of the hotel. According to McClellan's article on this building, Mrs. S. P. Watts was Dr. Eldredge's mother-in-law. Her husband, Seaborn Pendelton Watts, was the first editor of Abbeville's Vermilion Star. Apparently Dr. Miller ran it as the Palms Hotel for many years. As late as 1927, there was a report of a fire "in the rear of the Palms Hotel." According to a postcard in Barton Bienvenu's collection, the hotel offered a choice of "85 outside rooms." Room rates began at a dollar. Frank de Graauw was the manager.
In 1934, the Meridional reported that Dr. Miller "is redecorating and refurnishing the well known 'Palms' and is converting this spacious structure into one of the best equipped hospitals in the State." The first floor was to contain two operating rooms, a maternity room, and private rooms for patients. Nurses and other "members of the hospital service" would occupy the second floor. The gym would be "fitted out as a colored ward." The operating rooms were to be equipped with the "latest inventions in operating room furniture and the newest improvements in sterilizing appliances." Finally, the kitchen was being enlarged and "fitted with gas and electric ranges—a special section being set aside for dietary cooking."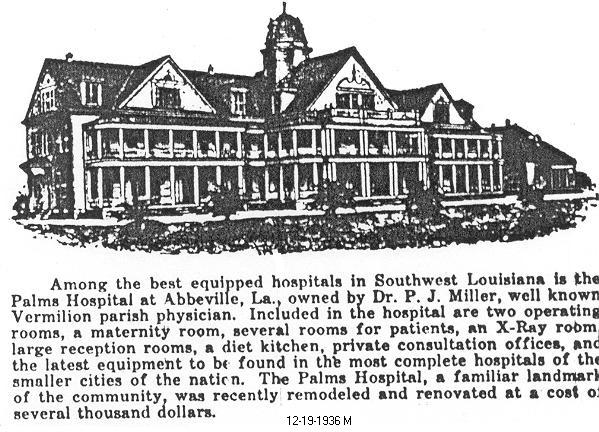 For another informative treatment of the birth of the Fenwick Sanitarium at the beginning of the century, and of the demise of the Palms Hospital in 1965, please read Mrs. B. B. McClellan's report on the Palms. She delivered her report to the Woman's Club in the 1970s. Because we had a few different sources of information, our articles complement each other. Mine is more detailed until 1907; Mrs. McClellan's has more information about this building after 1907. Her late husband, Dr. J. E. McClellan, had once been a part owner of the Palms.
Dr. F. F. Young, Sr. died on September 26, 1945, at the age of 82. I know virtually nothing about his last 30 years. However, one of his grandsons, Federal Judge Richard J. Putnam, had many fond memories of him. He told how his grandfather had loaned him $300 for tuition for his last semester in law school. When Judge Putnam repaid the loan, Dr. Young implied that he had not expected to see the money again. The judge said that his grandfather was like that: too generous with his friends and relatives.
Here, where once stood the Fenwick Sanitarium, imagine Dr. F. F. Young and his sanitarium. Both provided Abbeville with some of its claims to fame. Individuals from across the United States came to receive treatment for their substance abuse problems. Imagine all that occurred on this block, from the frigid night when fire swept away the 1902 Fenwick Sanitarium, to that elegant banquet with 500 guests in attendance in 1907. Finally, recall how the sanitarium gradually transformed into the Palms Hospital where many individuals, living today, were born.
Dr. Francis Fenwick Young, Sr. did much for Abbeville and for the successful treatment he provided for his patients.
Kenneth A. Dupuy
---
See the related article by B. B. McClellan on the Fenwick Sanitarium.
---